The Quest to Learn to Make Games: I Found a Team!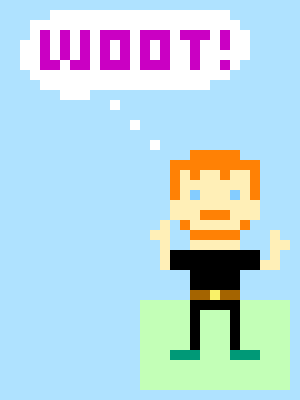 I found a team to collaborate with!  I'm totally psyched. I've been invited to join a group of 5 guys (including me) with the goal of executing a small game project.  We are still working out the details and doing some conference calls (via skype) to talk about what idea we'd like to develop and getting to know each other so there's nothing to share on that front but it's great to be in communication with a group of guys who share my goals.
Some of us met through the Unity forums collaboration section and have agreed that we will use Unity as our development platform.  There's a range of experience levels in the team but everyone is contributing at least one core function. So far the functions are music, two programmers, one artist and a guy who has already developed a series of games and has an animation background along with some programming.  In addition to our core game dev functions the guys all bring a couple of additional skills like business development and accounting from their day jobs.  It's worth noting that we are all spread out all over North America and everything is happening over Skype and email at this point.  I'm looking to get us on some kind of document sharing platform like Google Docs or Evernote soon to cut down the volume of email a bit.
We are all contributing ideas for a theme and game mechanics at this point.  We are trying to approach the project from a more business oriented and less hobbyist-like perspective and so will try to make some of our decisions based on things like demographics and available market data.  We're hoping to do something small and achievable with a team of our size and get a prototype together in a 2-4 month development window. Needless to say I'm super psyched! For the time being we're sort of in stealth mode so I can't really share too much detail wise but the guys on the team know about this blog so I'll see what they're comfortable with me sharing on here.
The lesson that I take from this and that you guys can use is to put yourself out there! Forums seem especially good but use whatever means of communication at hand. Unless you let people know that you're looking to collaborate and learn together nothing can happen. And if you do you might find some great people to create something with!
Mentioned in this post: